&mdash November 24th, 2008 {10}
Soccer (Football) Project
Okay, party is over. It's time to go back to real business.
———————
I found out the great project for football (I prefer to use english term instead american one a.k.a soccer).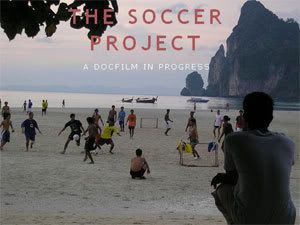 Surely, the four guys have the energy and passion to the game. Maybe that's not about the technical one. That's about life.
Their trip to the third world countries described that. They seem to know there are many important things behind the game. Humanity, efforts, unity, and so on. You may say another words.
Actually we have someone who does the similar thing in Indonesia. Andybactiar Yusuf has been showing his passion to football through movie making.
Football is a unique thing. We can learn many things from the game. I agree with Paman Tyo that player behaviour on the pitch is representative of the one in daily routine life. We show the same behaviour both in our daily life and on the pitch.
Unfortunately, we can't afford more "Andy Bahctiar Yusuf". People still share their focus to basic life. That's why I hope football project squad will come by to our yard. 
They can see how our little Pele uses street and another unfamiliar places to show his football talent because no longer free football field available. Or they will watch out our amateur village league which looks like art martial contest.